26 Irvington Cres in Willowdale – ** SOLD!! **
This is a great house in a fantastic area. Willowdale has long been known for its comfortable homes on large lots. In recent years, the area has also become known for rapid growth. The nearby Bayview Subway station has been open for about 15 years, and major public transit infrastructure usually spurs economic growth and housing activity, and that's what's been happening.
Irvington Cres is tucked away in a little pocket of just four quiet streets accessible (by vehicle) only via Calvin Ave, southbound off Sheppard Ave E. So, with no 'through traffic', the area is rather idyllic, considering that the Bayview/Sheppard intersection is actually quite close by. Kids can play ball hockey, and pedestrians usually have the road to themselves. Plus, there's foot/bike access to Bayview Ave at the east end of the street, which is super convenient for the locals.
The house itself is fairly original, and will benefit from some updating. It got a new roof in 2007 (and the garage roof in 2009), and a new sliding glass door to the back patio just this year. The back addition family room was done in the late 1980s, and features a wood stove for extra warmth in the winter. There's loads of wood out back, too, from a couple of old elms that were taken down a couple of years ago.
The layout of the house seems to really encourage air flow; open up the windows on a warm day and a great breeze gets going, right through the house. The long kitchen is bright and roomy, with a nice little eating area right by the back door. There are two bedrooms upstairs, and a full bathroom, while the main floor includes a bedroom/office and a powder room. The basement is partly finished, with an extra bedroom, laundry room and a three piece bathroom. The cold room needs some work, but will be a great place for preserves (and wine!) when that's done.
The back yard is huge. There's room for a back patio, the detached garage, piles of wood, a trampoline, and a play structure – and there's still lots of space! The owners have lived in the house since 2003 and have never used pesticides or herbicides on the lawn, which is great for children and pets.
The Neighbourhood
From Irvington Cres, one can walk to Bayview subway station in 6 minutes, and walk to Bayview Village Mall (Loblaws, Pusateri's, LCBO, Chapters, Mastermind Toys, and lots more) in about 10 minutes. The Sheppard Centre (Yonge and Sheppard) is getting a Longos and LA Fitness in 2018. Other amenities include a nearby YMCA, places of worship, a ZipCar location and… IKEA!!
Also, there's a farmers' market every Tuesday and Friday from May-October just across Sheppard in the People's Church parking lot. And, there are several parks nearby, including a few within a 10-minute walk: Sheppard East Park, for smaller children, renovated in 2017; Greenfield – Longmore Lands, which is relatively new; and Glendora Park, which has a splash pad and tennis courts. The bike trails of the Don Valley are also easily accessible.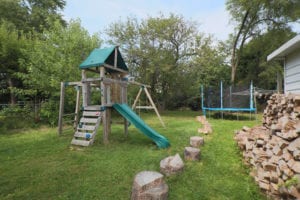 The street is in the catchment areas for Hollywood Public School, Bayview Middle School , and Earl Haig High School. Readers should note that the TDSB cannot guarantee that all local kids will get in to their designated 'home' school, due to rapid population growth around some schools. It would be wise to check with the Board before making any decisions!
All the usual chattles are included: fridge, gas stove, Bosch dishwasher; gas dryer, front-loading washer; a gas BBQ and a play structure in the backyard. But, the underlying value is in the lot: 52ft by 150ft. A buyer could renovate the house, or do like so many of the neighbours have done, and start from scratch.
**UPDATE** After a week of marketing, including a busy weekend open house, we received a number of offers on this house on 'offer night'. The house is now sold to some very happy buyers!